Scott & Rachel's Wonderland Trail Journal
Sunrise Trailhead to Berkeley Park
Day One - Monday, August 13th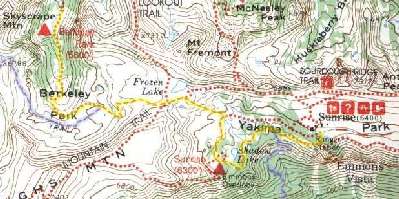 (Entry by Rachel) - Notes to self:
Remind Scott to bring his (comfortable) tennis shoes, instead of leaving them at the car.
Next time, remember to bring a long sleeved, quick-drying, lightweight shirt (mosquitos love exposed skin).
The mixing cap to the "Pristine" water-purification bottles is a useful item, much more useful in camp than on the counter at home.
The Wonderland Trail was ranked number one in a "Backpacker's Magazine" reader's poll in a number of categories. One of those was for viewing wildlife. It's only our first day on the Wonderland Trail and already we can see why it got such a good rating. Our first encounter with wildlife today was not actually on the Wonderland Trail, but rather on the way to the trail. After we hurriedly packed up camp this morning to avoid a threatening rain shower (after we were fortunate enough to make it through the night without the fly on the tent and without getting wet) we encountered a deer, quietly grazing in the meadows at Chinook Pass. We had to stop for road construction so we got to watch the deer for a couple of minutes. We saw a second deer later on, while hiking thru Berkeley Park on our way to our first campground on the trail. We came around a small copse trees and there was the deer grazing in the meadow. This second deer was a little surprised to see us and quickly wandered away, down across the path and was lost into the meadow beyond.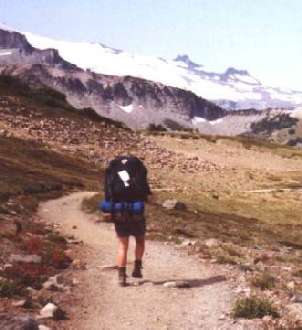 We were also witness to a couple of marmots feeding on the lush grasses and flowers as we descended through Berkeley Park. The first marmot was only about thirty yards ahead of us when we stopped to watch him. He eyed us briefly before picking more grass, moseying up the trail towards us, and then off and into his hole. Another one, further down the valley from where we stood replied to Scott's whistles a few times, just to let us know he was there. Not more than five minutes later, we stopped again to watch another marmot feeding on the alpine lupines before plodding off.
For someone like myself, who had never seen a marmot before, I was amazed at their size. They look like a cross between a racoon (as they are of similar colouring - minus the stripes) and a beaver. They are about the same size as both these animals, but they lack the longer legs of a racoon and appear to waddle along with their stomachs dragging on the ground.
Without a doubt, however, the majority of wildlife we have seen has been of the winged, parasitic variety. Whether they are mosquitoes, biting flies, deer flies, or horse flies, they are upon you the minute you stop moving. The biting flies are slow, so they fall easy pray to a swift moving hand, but their sheer persistence in numbers is annoying. The mosquitoes are even worse. They sneak in quietly and land out of sight, like behind the knees or the back of an arm, only to leave a calling card that will have you itching for hours to come. The insects are so bad that we have taken shelter in our tent. It is mesh and we haven't put the fly on yet, so we can sit in here and watch them hover around, waiting for their next feast.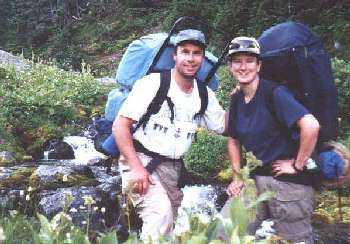 We have also seen a few rodents running around. Back at he parking lot at Sunrise, one impertinent little chipmunk climbed up on my pack to have a look into the open front pocket. Unfortunately, he didn't stick around long enough to be captured on film. We also saw a mouse sneaking around our camp, but his debut was brief and he hasn't returned.
The hiking today was very scenic, through the alpine meadows and then up onto the ridgeline between Sourdough Ridge Trail and Skyscraper Mountain. Climbing the 600 feet from Sunrise Camp up to the Frozen Lake Junction had me huffing and puffing. The climb was so bad that as we pulled off the Wonderland Trail onto the Northern Loop Trail and began our 1000-foot descent down towards Berkeley Camp, I was beginning to dread the hike back out again tomorrow morning.
About halfway down to Berkeley Camp, Scott remembered what had been nagging at him, what he had forgotten in the car: his camp running shoes! We briefly contemplated the idea of him returning to the car, pack-less, in order to get them, but he decided to persevere without them. I sure hope that is not a decision he will regret in the days to come.
Tomorrow will include the 1000-foot climb out of Berkeley Park, back up to the Wonderland Trail, followed shortly after by another 320-foot rise up to Skyscraper Mountain. From there we will drop 2000 feet to Winthrop Creek before rising the last 1000 feet again into Mystic Camp. A grand total of ten miles, a lot more than today's three and a half. With luck, the weather will hold. We have had beautiful sunshine all day except for a minor sprinkle as we were driving to Sunrise. It has been hot, perhaps even a tad warm for hiking, but I don't want to sound like I'm complaining.