Scott & Rachel's Wonderland Trail Journal
Berkeley Park to Mystic Lake
Day Two - Tuesday, August 14th
(Entry by Scott) - We awoke at 7:00 AM, after I had another restless night's sleep. A mouse, or some other small creature, was trying to find his way into the tent during the night. "Rustle, rustle," was the sound that woke me several times. Maybe he was attracted by Rachel's snoring (ha ha ... just kidding, Rachel). We got up, fixed breakfast and swatted mosquitoes while we ate. We broke camp and were on the trail by 8:15 AM. (Looking back and laughing ... this is a very late start, compared to our PCT standards.)
The climb up and out of Berkeley Park was long, but thankfully, in shade much of the way. We saw our marmot buddies hanging out, close to where we saw them yesterday, and got close enough for a photo as one lounged, sunning himself on a rock near the trail.
We rejoined the Wonderland Trail after 1.2 miles and had a further climb up to the 6600-foot pass near Skyscraper Mountain. At the saddle, we took off our packs and scrambled to the top of the mountain for a 365° view, which was absolutely stunning (why we didn't take any pictures there ... I don't know). We could see north to Mount Baker (barely visible in the haze) and had a great view of a large plateau named "Grand Park". The local Indians used to come up in the summer for a big pow-wow and games, including horse racing. I could see that Grand Park would be an ideal location for those festivities.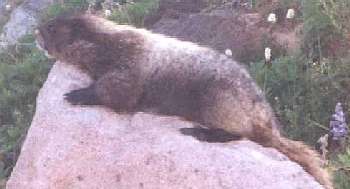 The day grew warm as we made a long descent to the toe of Winthrop Glacier. We watched rocks tumble off the leading edge of the melting glacier and marvelled at the grand scale of earth movement. The glacial melt water formed an angry, boiling river that we crossed on a large, single log with a handrail. We had to shout to be heard.
I forgot to mention that on the way down we saw a male grouse doing his mating call not five feet from the trail. He got quite excited when I called back and he posed nicely for a photo (in which I'm sure he'll look more like a small black dot than a grouse. You know how things work out.) [1]
The day grew even warmer as we crossed the river and began climbing up the west lateral moraine. We finally made our way back into the trees and continued our 1000-foot climb to Mystic Lake Campground, our day's destination, some ten miles from our morning camp.
We were both very tired as we trudged into camp. We spent a bit of time swimming and rinsing laundry in Mystic Lake, soaking up some sun and resting the feet. Then it was then back to camp for a delicious meal of beef stroganoff and spaghetti noodles. We went to bed early, to prepare for a long (twelve-mile) journey to Eagle's Roost ... and a huge (3200-foot) climb up to where those eagles soar.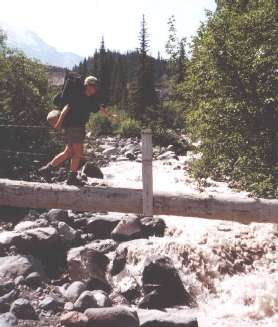 One of he benefits of hiking the Wonderland Trail in the less-popular direction ... (counter-clockwise) ... is that we cross paths with many hikers - all of whom are walking toward us. This morning, just after rejoining the Wonderland Trail and after our climb out of Berkeley Park, we ran into three women who were finishing the circumnavigation they had begun the year earlier. They had started in Longmire last year and made it to Mowich Lake. They said that the trail was beyond their expectations, in terms of difficulty, and had to quit. They returned this year to do the remainder.
Next, we ran into a woman travelling alone, scrambling down from Skyscraper Peak as we were ascending. She was from Santa Cruz and enjoyed some of the side-trip hikes that the Wonderland Trail offers. She was up early (5:30 AM) and hiking some of the higher side-loops and had spotted some mountain goats.
We passed a couple of girls, resting beside the trail, as we began our descent from Skyscraper Mountain. They were doing a several day "out and back" trip from Sunrise Camp.
Further down, we ran into another couple, part way through their clockwise trip. They are the couple that alerted us to the location of the grouse.
At Granite Creek Camp, we stopped and talked with a group of five people from Washington State. They were heading as far as Granite Creek Camp today and then around the rest of the mountain, spending a night at the lodge at Longmire. This was something they were already looking forward to. It looked like a mother and father accompanied by a friend, their daughter and son-in-law. The young couple had packs called "wallabies" that they wore around their thighs, hanging from a webbed belt, like saddlebags.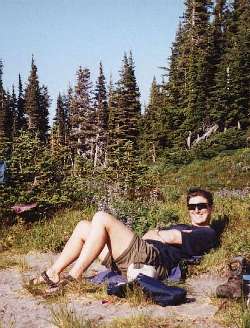 Not far from there, we ran into another couple from Washington State. They were headed to Sunrise today, and were looking forward to dinner because they were picking up a food cache.
At the angry Winthrop River, while we were eating lunch, a man passed us who was out for a "day hike", eleven miles out from Sunrise, to Mystic Lake, and back again. (Some day hike!) He had to be back in Olympia to baby-sit his granddaughter at 6:00 PM (he had started at 9:30 AM). A rugged 22-mile day-hike! WOW!!
And shortly before reaching camp, we chatted with a pastor from Milton, Washington who was out to "recharge his spiritual batteries" on a solo hike around the Winthrop Glacier area. He preferred to stay at remote, cross-country camping sites. (Several such permits are available. You have to camp at a site that is off the main trial by a quarter mile and 200 feet from water). It's a good option for experienced backpackers, can translate into a more desireable Wonderland Trail itinerary. Something to keep in mind for the next time.
We ran into the girl from Santa Cruz again at Mystic Lake (her name is Lia). She hiked the Pacific Crest Trail (PCT) in 1999. We chatted with her for a long while, while our clothes dried. Shee too is headed to Eagle's Roost tomorrow and we look forward to getting to know her better.
All quality people and all are having the time of their lives!
---
[1] Not only small, but dark and blurry too! Wildlife photographers have nothing to fear from me! (Photo not included for obvious reasons)
---