Scott & Rachel's Wonderland Trail Journal
Eagle's Roost to Golden Lakes
Day Four - Thursday, August 16th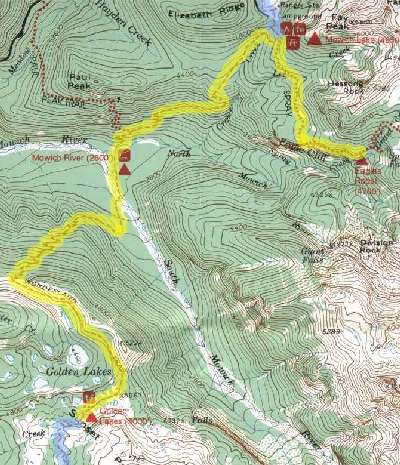 (Entry by Scott) - I say "po-'ta-to", you say "po-'tay-to" ... I say "Long-mere", and everyone else says "Long-mire". Now that I've had many miles to cogitate about it, I'm beginning to be enlightened. However, I am also someone who (honestly) didn't realize that it was Mt. Rain-ier either (i.e. "rainier", as in, more rain!). Funny, but I always thought it was pronounced Mt. Ranier, named in honor of some fellow whose last name was Ranier, having "discovered" the mountain in 1785 or some such time. Really! Mt. "More Rainy", go figure, and of course, it's not a leap to realize that it's pronounced "Long-mire" because of the lengthy (long), muddy track (mire). So now I'm enlightened (and so are you - if you can admit that you weren't in the first place). The things you think about when you are hiking all day! The mind does wander.
Anyway ... Mt. Rainier has not been living up to its name; quite the contrary. It should be called Mt. "Melt", or Mt. "Swelter". Yesterday was 95° Farenheight and Rachel had heat exhaustion (which you heard about in the last entry. I know, because I was there to get the pot! It wasn't a pretty sight ... poor girl). Today wasn't as hot, but I've been very surprised that the nights aren't cooling down more. In fact, I'm finding it too damn hot at night for a down sleeping bag. I wish that I'd brought that sleeping quilt instead.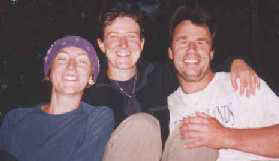 We had a long (twelve-mile) day today, so we got up early (thanks to yours truly who was awake at 5:20 AM). Despite our big effort to get out of camp early, we chatted more with our new friend Lia Van Damm. It was her last day and we took our sad farewell of this gentle soul. We really enjoyed meeting and getting to know her. We took a group photo and exchanged email addresses. She will be a valuable resource as we plan our PCT trip and we hope that she can join us for a few days.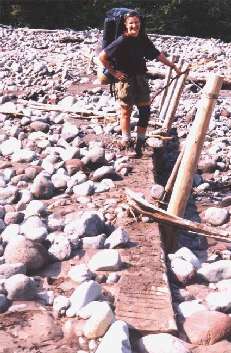 We left Eagle's Roost at approximately 7:30 AM and began our long descent to the Mowich River. The trail wound through dense rainforest and wasn't too steep, though there were some switchbacks at the base. It has been interesting to see the vegetation change between Sunrise and here. At Sunrise: high desert, low trees, heather and rocky outcrops. Here: dense, tall trees, lush ferns, Salal and numerous flowers.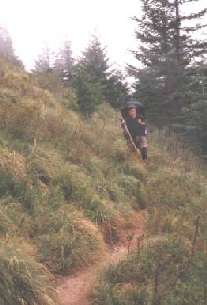 We crossed both the north and south fork of Mowich River at about 11:00 AM, after about 5 miles of descent. The south fork of the river, draining from North Mowich Glacier, had flooded over the log bridge recently (yesterday) and the bridge was buried in rock, sand and mud. The recent hot weather is causing some rivers to run quite high in the late afternoons[1]. We were glad to be crossing when we did.
After Mowich River, we faced about a 2400-foot climb up to Golden Lakes, our day's destination. Not wanting to delay our attack of the mountain, fearing heat and a possible slow climb because of fatigue, we skipped lunch and started up the hill. We counted twenty-five switchbacks as we made our way up the steepest part. Water, which hasn't been a concern up till now, became scarce. We had to ration our last quart for lack of supply (which seems a bit ironic, really, because we climbed through a dense forest, filled with ferns and other lush plant life. You would think that water wouldn't be a problem!) Finally, we came out on top with sore feet and tired thighs. We made it to Golden Lakes Camp, found a site and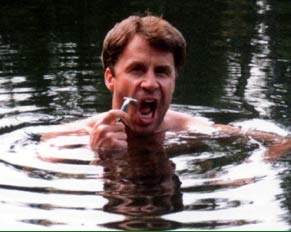 Rachel became nauseated, just like yesterday (only, thankfully, no bowl was called for). She recovered quickly and set up the tent, while I walked down to the nearby lake to fetch six quarts of water.
We couldn't resist plunking our sweat-covered bodies in the lake, so we swam, I shaved, we washed our hair at camp, and we did some laundry.
We had another great, home-dehydrated dinner (chili and rice with chocolate pudding for dessert).
One distressing note, we are running low on "Pristine", our two-part water chlorination kit. We are now boiling water and using the remaining Pristine sparingly. It seems as though there was a leak from the "Part A" bottle (apparently) and we have much less purification capability than we need to get to Longmire, which is still three days away. (Since this incident, we've taken to carrying several iodine & vitamin C tablets, for emergency water purifications, in case we lose either "Part A" or "Part B" of our liquid chlorine dioxide kit).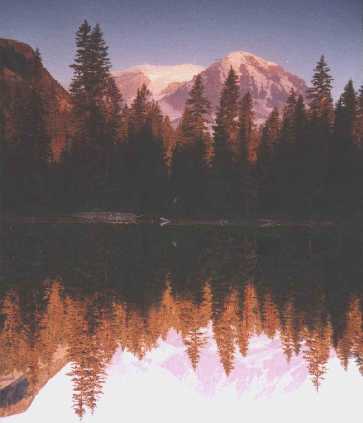 ---
[1] Today there was a burst of glacial melt water that wreaked havoc on the opposite side of the mountain. It washed out a footbridge (a section we would have to detour around) and it was reported in the media that Mt. Rainier had a volcanic event. (Read the news article, which opens in a new window - just close when you are finished.)
---