Scott & Rachel's Wonderland Trail Journal
Snow Lake to Nickle Creek
Day Eight - Monday, August 20th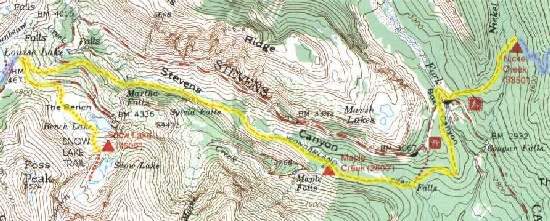 (Entry by Scott) - We were up early this morning, but not too early (6 AM). It was cold overnight, with heavy dew. This wasn't good for finishing the clothes drying and things were wetter in the morning than they were last night. To top things off, we had a mouse visit my food bag ... and he got into the GORP. There was fecal evidence of gluttony, much of it a sticky mess. I hope that mouse has a severe stomachache all day ... he deserves it for the mess he made. As perhaps you can tell, our morning didn't exactly get off to the smoothest of starts. Cleaning wet mouse turds out of the food bag isn't a whole lot of fun. Added to that was the fact that the camp site was so dusty, it wasn't possible to set anything down without getting a layer of dust on it.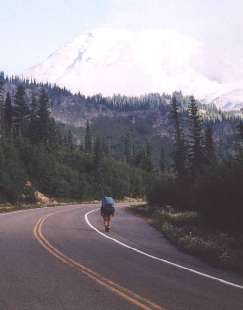 So ... anyway ... we were eventually back on the rail by about 8:00 AM - wet shorts and all. We had a nice view of the Mt. Rainier on our way out from Snow Lake, but it was soon shrouded in low clouds. We had to hike a bit of the road to get back to the Wonderland Trail, which wasn't too much fun. Thankfully, being Monday morning, there weren't many cars on the Mt. Rainier National Park roadway.
Onto the trail and down it we went, past Sylvia Falls and onto one of the flattest stretches of the whole Wonderland Trail. It was heavily overgrown with vegetation and se saw evidence that a trail crew had been recently by. So recent, in fact, that we bumped into a group of three crew members. They call the area "Little Guatemala" because it grows so fast that it requires two-to-three clearings per season. We chatted with them while they were on their break. There are five trail crews, working full-time, around the mountain, during the summer months. We thanked them for their efforts and moved on.
We crossed the main Park road a couple of times; the second time, at Box Canyon. We stopped for lunch there, at a sunny overlook. We pulled out our wet clothes to let them dry some and had a lunch of bread, salami and cheese (nice to have fresh food again). We had a view of the Box Canyon turnout and we watched the tourists come and go as we ate, oblivious to our presence, above them.
The Nickel Creek Camp was only a mile up the trail from our lunch spot, so we had only a short way to go (uphill) to finish our day. There are three individual sites and one group site at this creek side campground. We are in site number one. At camp early, we took advantage by doing our own thing: Rachel reading in the sun, and me laundry, bath and berry picking.
Today we ran into our first group of people that we met when we were just starting. Two guys who are about halfway around and a guy/girl group (twosome). We are beginning to feel like Wonderland Trail veterans, now that we have two thirds of it behind us.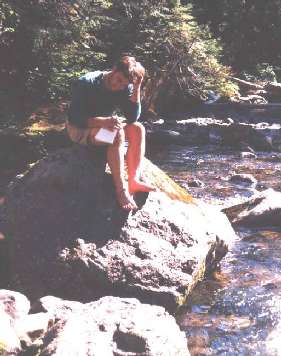 There is supposed to be a major storm coming into the area tomorrow afternoon or tomorrow night. You wouldn't know it by the look of today - sunny, warm, with only a few clouds. We are hoping that being on the eastern side of the mountain (the rain shadow side) will help minimize the impact. Still, we aren't taking any chances and have put the fly on for tonight.
Dehydrated chili con-carne for dinner. Yippee! Another home-cooked meal. Here it is, day eight, and I can tell you that this is the first extended backpacking trip I've taken that I haven't had a craving for food. Usually I'm dying for a hamburger, fries and a shake. Not this trip. Those two guys we ran into again this morning said, "We were near Sunrise Lodge and really wanted a cheeseburger, so we hoofed over there from camp, only to find out that it closes at 7:00 PM. We missed the closing by six minutes." The one guy, who wasn't craving the cheeseburger, said of his friend who was, "I thought he was going to break down and cry." They ate potatoes and a can of Spam instead. Spam? From a can? Yuck, and ... heavy trash! No wonder they had cravings.
Yes-siree ... home-made dehydrated hiking meals are really working out! I've never eaten so well backpacking in my life. Now ... if I can only figure a way to dehydrate beer and wine[1], then I'd have it made! In the meantime ... Spaghetti sauce with noodles, Chili-con-carne with instant rice, Shepherd's Pie and Beef Stew with instant buttered mashed potatoes, Tuna Casserole, "Daal Gosht" with rice, and Beef Stroganoff will do nicely! (We posted a few of our recipies online, from out PCT hike - click - if you want to know more.)
---
[1] The August 2001 issue of Backpacker magazine (Pg. 66) has a blurb on Burgundy, Sauterne & Sherry wine powder, from Adventure Foods Adventure Foods. I'll have to try that some time! LOL
---