Scott & Rachel's Wonderland Trail Journal
Introduction
We hiked the Wonderland Trail because we were preparing for our Pacific Crest Trail hike, so we wanted a moderately long backpacking trail to use as a 'test-bed' for equipment, clothing, dehydrated food & gear. We wanted something strenuous, to test our legs. We were also looking for a circular route, where we didn't have to worry about transportation once the hike was finished. We also wanted something close (we were living in Vancouver) & scenic.
Wow! We picked the Wonderland Trail - in Mt. Rainier National Park, Washington State - for these very thought-out reasons & yet, we never suspected that the Wonderland Trail was such a world-class destination hike! Neither of us had heard about it before, though we both considered ourselves relatively experienced backpackers. The more we planned, the more eager we were about hiking this trail that circles Mt. Rainier. Once on the trail, we were NOT disappointed! We're now looking forward to the time we can revisit this trail. We missed out on much of the scenery on the east side, because of bad weather. We didn't explore side trails enough (we missed out on watching bears feed on berries, for example, which we heard about from fellow hikers who DID spend more time exploring).
About the Wonderland Trail
The Wonderland Trail is nearly a 100-mile circuit that circumnavigates 14,411-foot Mt. Rainier, Washington. Mt. Rainier is the tallest and most significant glaciated volcano in the contiguous United States [1]. The Wonderland Trail passes through deep rain forests, crosses tall mountain passes, alpine meadows and glacial streams. It was completed in 1915, by the Seattle Mountaineers organization and has a maximum elevation of 6,900 feet at Panhandle Gap, and a minimum elevation of 2,800 feet at Longmire.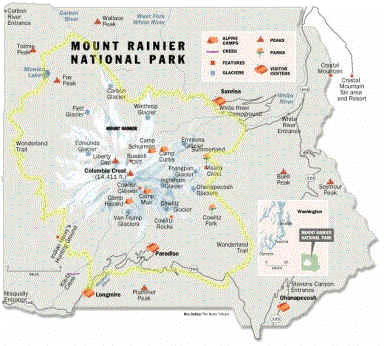 The Wonderland Trail was rated as the "Best Overall Long Trail" in a Backpacker Magazine reader poll [2]. It had top ratings in many categories: "Scenery", "Wildlife" and "Difficulty". It was rated third for "Signage" and second in "Camp/Shelter" conditions. The only place it fell down, was "Solitude". The Wonderland Trail a popular backpacking trail and requires reservations because it has limited camping spots (see the 'Planning Your Backpacking Adventure', below).
While hiking the Wonderland Trail, one gazes in amazement at the massive, glacier-covered Mt. Rainier and its deep glacial valleys. Looking across grass-covered alpine meadows, covered in wildflowers during the late summer months, one can understand why the trail is tops for scenery.
Wildlife? We saw deer, marmots, mice, and elk. Some of our trail companions saw bear and mountain goats. We weren't as lucky (or unlucky, depending on how keen you are about black bears). We had no difficulty with bears in camp, but we used the bear poles that were provided at the designated camp spots. (Update: poles have since been replaced with bear boxes).
And in terms of difficulty, the Wonderland Trail can dole out the difficulty. Our hike was about 95.8 miles long and we went up and down a Wonderland roller-coaster: a total elevation gain and loss of 47,400 feet [3]. Put another way, it's like climbing from the road at Paradise to the Mt. Ranier summit over 21 times. The trail climbs into alpine sones and then plummets nearly 5,000 feet into old-growth forest. Then it's back up to the top of a steep drainage ridge, then down to the next river crossing and back up again, then down, and up, over and over. Grueling? Yes, but you're passing through diverse biotic zones and are accompanied by stunning, ever-changing views (and bonus: always a chance of spotting wildlife around the next bend)!
As a testimony to the difficulty, we met more than one backpacking group, tackling the trail - again this year - because they were unable to finish the year before - having to pull off the trail because of injury or because it was more difficult than anticipated. After one especially hot day & a very long, grueling climb, Rachel felt ill and vomited in camp. Yep, the Wonderland Trail is one tough trail!
Planning Your Wonderland Trail Backpacking Adventure
How long?
We completed the Wonderland Trail in a 10-day trip and, as a result, we had a couple of really long days. We wanted to take 12 days to hike, as per Bette Filley's recommendation, but we weren't able to get our ideal itinerary (see reservations, below). Some people race along the trail & probably can do it in 8 (or less days). Why hurry? If time constraints dictate your plan, then so be it. However, we recommend 12 (or more, if you have them) days. This allows plenty of time to enjoy the hiking, side-trips & a social life in camp. We believe that your choice of 'how long' may well determine the amount of enjoyment you experience on the trail. (You want to hike the Wonderland Trail because you enjoy backpacking and the wilderness experience, right? Savour it. Enjoy it. Make it last as long as you can! That cheeseburger after the the trip will taste that much better!)
Clockwise or Counter-Clockwise?
Most folks hike the Wonderland Trail in a clockwise direction. That's what we wanted to do too, initially. However, when it came time to make our reservations with the Mt. Rainier ranger, we didn't get our ideal itinerary - so we ended up hiking the Wonderland Trail in a counter-clockwise direction. In retrospect, we don't think our backpacking trip was any more difficult and we think it actually offered several advantages: (1) We got to meet lots of people (hiking in the - preferred - clockwise direction) during the course of a day; (2) We got to see some folks twice (once when we first started and again 1/2-way or so along the trail). It was fun to see familiar faces and compare notes. The downside, besides not going in the preferred direction, was that we hiked with very few people (there were only a couple backpacking groups or individuals that we leap-frogged on our journey - nothing like the number we suspect we'd have, had we hiked the Wonderland Trail in the clockwise direction).
Reservations?
We weren't able make reservations in advance, because we couldn't get through on the phone. (This was very frustrating for us). We had to make 'walk-on' reservations instead (we showed up at the Mt. Rainier hiking office and had to work out a last-minute itinerary). Our experience was that getting on the Wonderland Trail as a walk-on wasn't a problem (though we don't recommend relying on this method). It took an hour of fiddling, with the ranger (who was very patient and helpful), before we were able to obtain a counter-clockwise, 10-day itinerary (we had originally wanted a clockwise, 12-day backpacking schedule).
We recommended they change the reservation procedure, because we always received a recorded message (on our long-distance dime) and were never able to talk with a live person. Hopefully, they've changed the system since we hiked, but by all means, we recommend that you obtain a reservation before your Wonderland Trail hike. It's a lot less stressful (as we can attest) and it cost us a day's delay (it took the better part of a day to hammer out campground reservations & get a hiking permit.
Note: By utilizing a 'backcountry camps' and not a sanctioned camping location, you are more likely to obtain your desired itinerary. (Backcountry camping has certain rules: you must camp a quarter mile off the trail, 200 yards away from water sources, practice no-trace camping, etc. A word of caution - backcountry camping is permitted only for experienced backpackers, so assess your skills honestly.) We mention it because it was an option we were not aware of at the time we made our reservations and it may help your planning, if you are an experienced backpacker.
Backpacking Resupply
A 10-12 day backpacking trip is pushing the limits for carrying a full compliment of food. By utilizing a food drop, you can reduce your food weight up to 50%, which is a great option - especially considering the amount of climbing and descending there is on the Wonderland Trail. Resupply drops are easily done at either Sunrise or Longmire.
While Mt. Rainier National Park rangers accept either an in-person drop-off or a mail-ahead supplies, it's necessary that your supply be enclosed in a rodent-proof container. A five-gallon plastic bucket with a snap-on lid is a great option.
We cached our food supply at the Longmire Ranger Station, utilizing an extra five-gallon bucket that was left by a previous hiker. (While they often have extra buckets, don't count on it.) We were concerned about having enough stove fuel, as well (white gas, in our case). The U.S. Postal Service doesn't allow you to send flammable liquids by mail and although they sell it in the Longmire store, who needs a full gallon of white gas? We can't speak for denatured alcohol, but the rangers at Mt. Rainier employ a 'hiker-box' mentality about fuel. When a hiker buys a gallon or more, they use what they need and leave the rest for others. Ask Rangers if they have extra before you purchase more than you need ... there's a strong chance they have enough to see you for the remainder of your trip.
Best Time for Hiking
Without a doubt - August & early September.
Plan Side Trips
We highly recommend deviating from the official Wonderland Trail and hike up to Spray Park. It's a wonderful and beautiful location, but it will mean a tad more climbing. The wildflowers, when they are in season, are spectacular in Spray Park & the view, looking northeast, of Mt. Rainier is inspiring. (For those hiking counter-clockwise, like us, be sure to look over your shoulder or you'll miss one of the best views on the whole Wonderland Trail! Don't laugh. It's easy to do! The climb up to Spray Park is strenuous & when you're huffing and puffing, wondering when you're going to get to the top, it's easy to focus only on the trail ahead.)
More Information
The trail description and experiences of our journal will remain relevant for many years, but backcountry rules, reservation methodology, cut-off dates & campgsite ammenities will likely change every year. For the latest trail information, news and reservation details, we recommend that you visit the National Park Service Wonderland Trail page.
About this Journal
Our Wonderland Trail backpacking trip was the first adventure journal kept and shared with the world via the Internet. We started journaling as a way to savor first-hand memories of our backpacking adventures, but we thought, "What the heck. As long as we're going through the effort, we might was well share it with everyone!". We have since shared many other adventures (some journals are more complete than others). We enjoy sharing these adventures because we know it motivates others to "get out there" and because we have received loads of emails from like-minded people who love adventures, backpacking, kayaking & bicycle touring. We get many queries about the Wonderland Trail and on-trail dehydration recipes.
You will note that in our Wonderland Trail journal that we alternated authors every day. One day Rachel would write the journal and the next day Scott would write. We believe that this provides a unique perspective on the trail and creates a more interesting reading experience.
Topographic maps are included for each section of the trail we hiked. You can click on these maps (or any photos, for that matter) to see higher resolution images. Hovering over photos to bring up captions (as tooltips).
We hope that you enjoy our Wonderland Trail journal! We want it inspire you and - maybe - help you with your plans to hike the Wonderland Trail some day. If you have any questions or just want to say 'hi', please - email us.
The Wonderland Trail is an outstanding backpacking adventure and definitely worth the rating it was given in Backpacker magazine!
And now ... on to the journal....
---
[1] Discovering the Wonders of the Wonderland Trail: Encircling Mount Rainier
, Bette Filley 1998, Dunamis House
[2] Backpacker magazine, December 2000 issue, Pg. 41
[3] Hiking Map and Guide - Mt. Rainier National Park, 1:63360 scale topographic map
(80-foot contours), 2003, Earthwalk Press
---