Scott & Rachel's Wonderland Trail Journal
"Reservations"
Day Zero - Sunday, August 12th
(Entry by Scott) - The things we worry about. Before leaving Vancouver, I found myself thinking about the future unknowns. Will we find a campsite at Mt. Rainier, since we will be pulling in so late? Will they have a plastic bucket for our food cache? Will we even get a permit to hike the Wonderland Trail (the whole reason for outr trip)? I suppose it is human nature to worry about such things. It certainly is for people like us, who seem to have a penchant for sweating some of the tiniest details. But Hark! It all worked out. We left Vancouver right after Rachel finished work, at 2:30 PM, and drove south to Mt. Rainier National Park. We pitched our tent on a dirt road, just outside of the Park on National Forest land (camping on a deserted dirt road wasn't ideal, but it was getting dark and we hadn't found any better places to camp). We were sleeping only twenty feet from the end of the road, our tent smack dab in the middle, pitched across depressed tire ruts - and there was a trash heap just beyond. But, considering that darkness was falling and we had tried several other likely campsites, all to no avail, we were pretty happy with our dumpsite campsite.
We did drive through "Big Creek" Campground on the way by, on the slim chance that there might be an open campsite. There wasn't. The campground was completely filled. Many of campers had started fires and marshmallows could be seen (or at least imagined). We didn't even stop to check the price for a night's stay, something that we enjoy doing when we are on the hunt for a free 'stealth' camping site. It makes us feel good to know exactly how much we are saving to stay in the middle of the dirt road, 20 feet from a dump! Somehow, the stench smells sweeter. While we did not check the price at "Big Creek" campground, I did wonder if I had stayed there as a kid, travelling on one of the many summer trips we took as a family. I must ask Mom, when we get back, she would remember, or one of her travelogues would have it.
We set the alarm clock for 5:30 AM and went to bed. I slept as I normally do the first night in a tent - crappy. Rachel dozed right off, however, blending into the noise of the forest with her light snores and periodic rustling. In the middle of the night, we woke up suddendly! "BANG! BANG! BANG!" (in quick succession). Gunshots! How many? Was it six or seven? They sounded close! What disturbing and rude event. Drunken idiots on a Saturday night? Welcome to America, where the Second Amendment protects the rights of any idiot to own a gun. Our hearts were in our throats, but we eventually settled down again and went back to sleep.
At 5:30 AM the alarm went off. We lay in the tent, delaying the inevitable and finally ventured out at 6:00 AM. We quickly packed up the tent and drove into Mt. Rainier National Park, to Longmire. We were hoping to get ther by 6:30 AM, wanting to be at the front of the (imagined) line at the Backcountry Office (Hiker Centre), thinking it would increase our chances of getting onto the Wonderland Trail. (Again, sweating the details). Again, HA! We arrived at the office at 6:55 AM and were surprised to find that we were the only ones there. Not only were we first in line, but we also comprised the only "line" at 7:30 AM, when the Hiker Centre officially opened. We had (mistakenly) assumed that the permit process would be similar to that at the Grand Canyon, where each permit is given out on a roll-call basis. (Apparently, each National Park handles their permitting differently.)
We needn't have awakened so early. Still, but it's better to be certain. The ranger opened the doors and let us in at 7:20 AM, ten minutes early. The ranger, (a girl from Massachusetts, who works seasonally and is hoping to one day to be a backcountry ranger) was quite helpful. Our desired itinerary for hiking the Wonderland Trail - 12-days, clockwise direction - didn't work out, because so many camping sites were already reserved for nights we would have been there. It took a bit of fiddling with our desired schedule and more time consulting the reservation software on their computer, but after about an hour, she was able to cobble together an 11-night, counter-clockwise trip for us. We have to wait till tomorrow to start. We'll be headed around Mt. Rainier in a counter-clockwise direction, starting at the Sunrise trailhead (rather than our at-home plan of a clockwise direction, beginning at Mowich Lake). Our plan was based on recommendations from our guidebook "Discovering the Wonders of the Wonderland Trail", by Bette Filley. Our new Wonderland Trail itinerary has us hiking over ten miles on two different days, but hey ... we're officially on the Wonderland Trail - Woo Hoo! The icing? She even had an spare plastic bucket for us to store our cached food into (left by a previous hiker) and we were already at our caching location - Longmire! (Note: hikers caching food must store it rodent-proof containers because field mice get in the office).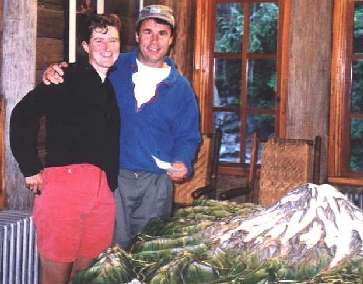 All of our fretting about reservations now behind us and our Wonderland Trail itinerary all sorted, we went about organizing our food cache and then left it with the ranger - including our stove fuel (a gallon canister half-filled with white gas) - which she stored in a separate building. Afterwards, we drove out of Mt. Rainier National Park for breakfast and to gas up the car. (We thought about eating breakfast at the lodge in Longmire, but it was a tad pricey ($6.00 for cold cereal and fruit). Frugal us - we ended up checking out three different places for breakfast before we finally settling on a place. Prices seemed to drop the further one went outside of the National Park. The first place - just outside the Park - wanted $6.99 for bacon and eggs. We drove passed the second eatery and kept on driving until the third-most distant location, which had eggs, hash browns and toast for $4.95 (no bacon ... bummer). At current exchange rates with the Canadian dollar, we're losing 40% of our purchasing power the minute we cross the border. It hurts to pay $5 US ($7.50 CDN) for something we know we can get for $3.50 in Canada.
After breakfast, we headed back to Mt. Rainier Park and drove to Paradise Meadow, where we got out and acted like normal tourists, taking a stroll through the alpine meadows. It only whetted our appetite to get started on our Wonderland Trail hike. From Paradise Meadow, we had magnificent views of Mt. Rainier, from a meadow covered with color from all of the wild flowers in bloom: magenta Indian Paintbrush, white Queen Anne's Lace, blue Lupines, and many, many more. The fragrance was so potent that walking along the path was intoxicating.
The highlight of the day, for me, was an incredible off-chance meeting with an old college friend and his family - once again proving just how truly tiny this planet really is. I thought Steve and his wife Jenny were still in Venezuela, on assignment with Chevron Oil Company. It turns out they are on a 3-week holiday, soon to be transferred to a new job assignment in Kuwait. They were visiting Steve's parents and his sister (his parents only recently relocated from California to the Pacific Northwest). I passed them on the trail, not looking at faces (too busy admiring Mt. Rainier and the wonderful flowers), but I hear a voice that sounded familiar. I turned, hesitated for a moment, then figured, "What the hell."
"Excuse me?" I called after them, "Is your name Steve?"
"Yes," he said.
"Steve Haas?" I asked as I walked back towards them.
What are the odds, eh? We had a nice, but much too short of a reunion. I'm glad they got to meet my fiancÚ and visa versa. I hope it's less than six years before our paths cross again.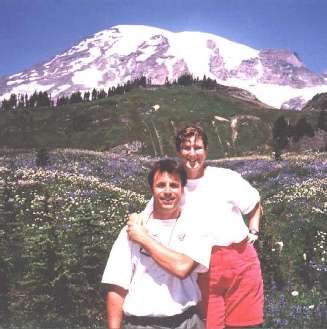 Rachel and I had talked about going on another, longer hike, to Pinnacle Peak, but then we decided against it. It was already 1:30 PM and we were feeling hot and tired. Aren't we going to be doing enough hiking starting tomorrow?
Again, we left the National Park in order to find another free 'stealth' camping spot in the nearby Wenatchee National Forest. We drove over Chinook Pass and then started a long descent down into the valley. After about five miles we hadn't spotted any prospective side roads. We were beginning to think about turning back and taking highway 410 back toward Mt. Rainier and then head north, out of the Park and into the Mt. Baker-Snoqualmie National Forest, when we finally spotted a side road. We drove along it for some distance, until it became too rough to continue by car. To our dismay, the road simply paralleled the highway back up the valley and didn't offer any suitable camping sites. Where the road became very rough, we encountered a couple on horseback. They told us to try another forest road about a quarter-mile further east, down the highway. They said that it would lead us to a creek and eventually, a lake. We took their advice and followed the dirt road for a ways. We never did find the lake, but we did find a great camping spot a few miles in, located right next to a picturesque flowing creek. It is beautiful spot! Sometimes being frugal pays off! We have this beautiful spot and we're the only ones there (and we're saving the $16 USD - $20 CAD - it would have cost us to stay in the Opanapecosh Campground ... mind you, we couldn't have stayed there even if we wanted - a reservation six months in advance is needed - ouch!)
We took a sponge bath in camp, rinsing off with water from the very cold stream. We followed that by cooking up a hot pasta dinner and are now ready for bed. It was a gloriously sunny and warm day today. There were a few clouds in the afternoon, but it is a clear evening sky so far. Will the weather hold? Do I want it to? It was hot sleeping last night and tonight we're going to leave the fly off (we have an all-mesh tent) hoping for a breeze and praying that it doesn't rain in the middle of the night. I'm using my new home made 'sleeping quilt' for only the second time tonight. (I custom-made the thing myself. It's a light-weight, fish-shapped and Quolofil-filled blanket. It's covered with bright yellow nylon on one side and dark brown on the other, which will hopefully absorb the heat of the sun and help it dry out faster. It attaches by Velcro directly a fleece 'fitted sheet' - which I also made - and which wraps tightly around my inflatable Therm-a-Rest sleeping pad). It is much lighter-weight than a traditional down sleeping bag, but will it keep me warm on cold Pacific Crest Trail (Sierra Nevada) nights? I'm afraid that answer won't come tonight.