Scott & Rachel's Wonderland Trail Journal
Nickle Creek to Indian Bar
Day Nine - Tuesday, August 21st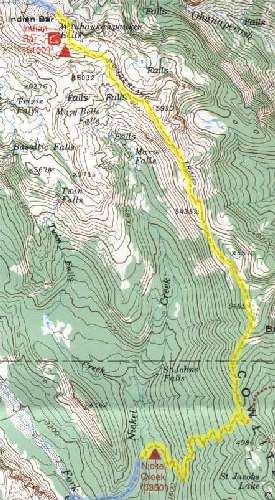 (Entry by Rachel) - As Scott says, Mt. Rainier has finally lived up to its name. It rained today and it is still raining. Some people manage to make it the whole way around the mountain without running into any bad weather. Those people are far and few between and should consider themselves blessed. Other people get nothing but rain the whole way around. I admire their determination if they keep going. Us, well, we got rained on within shooting distance of the end, and that may very well be what we do tomorrow. It's fourteen miles from Indian Bar to Sunrise, but other hikers who are currently hiding out in the nearby shelter did it today, so I'm sure we can do it tomorrow, especially as we will know it is the end. Hiking one day in the rain is not so pleasant, but hiking two or three days is horrible because your gear never dries out.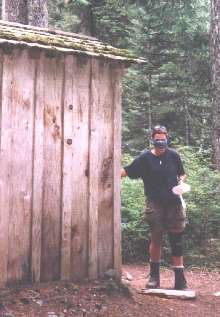 Last time we checked, there were already nine people down at the shelter, which has stone walls on three sides, and eight built-in bunks on the inside against those walls. Already people were planning on doubling up, two per bunk and more hikers were still arriving. Scott and I got in around 12:30 PM and quickly put up the tent. It was raining hard, but we are fortunate enough to have a tent that can be put up once the fly is already in place. We had never done it before, but managed to do so without too much difficulty.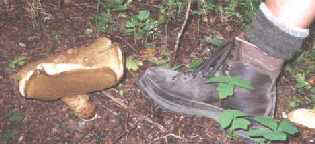 Our day started a little later again today, as we were anticipating an easy day with only six and a half miles to travel. We got up at about 6:40 AM and went through our normal morning routine of oatmeal and hot beverages before hitting the trail at 8:00 AM. The first two miles of our day were, as suspected, a steady climb through trees. Wouldn't you know it? It was dry, no rain yet. We had read Bette Filley's little blurb on the day's hike before leaving camp and were somewhat lulled into the misbelief that the first two miles would be the worst. Well, they were certainly the steadiest, and perhaps if it had been a clear day and we had been able to enjoy the scenery, they would have been the worst. Another mile or so of uphill through scrubbier brush and trees finally brought us out onto a ridge with views to the east and clouded view to the west. As I scanned around, I was able to pick out Mt. Adams to the south, with its summit hidden in the thickening clouds. It was shortly after that that the rain started; lightly at first, so it was almost refreshing, but it increased in severity until it was a certified rain, no longer a sprinkle.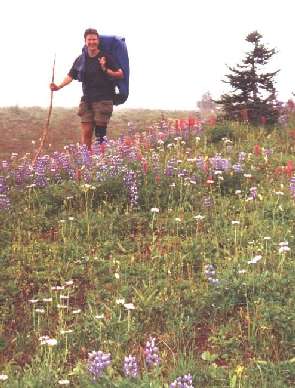 The ridge walk was a cold one, as we were getting wet and the winds were picking up. The clouds would move in, thick one minute, thinning the next, but the rain kept coming. At one point, when the cloud was giving us a little more visibility, I saw a herd of elk grazing on the hillside across the valley. We got out the binoculars to get a better look and we counted at least thirty of them. Spectacular!
Pushing on through the rain, we kept climbing until finally we reached the turning point, where we could start the 800-foot descent down to Indian Bar. When we arrived there was a group in the shelter, preparing to push on for their designated site, another four and a half miles away, up over the 6,800-foot Panhandle Gap and back down into Summerland (what a misnomer that must be on a day like today).
Scott and I decided to get our tent set up as quickly as possible so we could change out of our wet clothes and get warm. We opted for site number three, which is the highest of the camps and hopefully the most sheltered. Once we got the tent set up and fixed ourselves some hot soup for lunch, we realized that we needed to build a trench system around our vestibules. The seepage line was beginning to encroach on our gear and packs. We felt like two kids playing in the mud, as we scraped out a narrow trough around us, and then watched the runoff go into it and around our tent.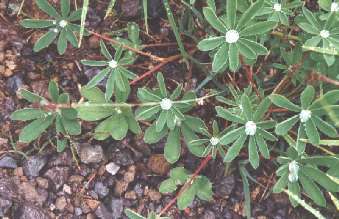 With that done, and us feeling relatively confident that our gear would remain dry, we donned our rain clothing and went out to pick some blueberries. The picking was good, as the bushes are plentiful and most of them pregnant with berries. With a good amount of berries in our pot, we decided to head out looking for some wildlife. Reports have been good for seeing wildlife in the area, including deer, elk and mountain goat, but I think the rain must have been keeping most of them away as we didn't see any.
On the way back to the tent, we decided to stop at the shelter to see who was present. As I already mentioned, it was full with nine people already there. The nice thing was that we were seeing familiar faces again and were able to swap stories on how the trail has treated us since our paths last crossed, on the west side of the mountain. The good news was from those who came out of Sunrise today, that the forecast is for lessening showers tomorrow. Let's hope they are right.
Now that we are back in the tent, listening to the pitter-patter of the rain on the fly, it is time for us to get some sleep. Tomorrow could be a big day. It is too bad about the weather because these last couple of days are supposed to have the most breathtaking views of Mt. Rainier.
---
[1] The August 2001 issue of Backpacker magazine (Pg. 66) has a blurb on Burgundy, Sauterne & Sherry wine powder, from Adventure Foods Adventure Foods. I'll have to try that some time! LOL
---